Obstetrics and Gynecology Sub-specialist program
is a specialist doctor education II

,

as a further development of specialist I (SpOG). According to the Law the term Consultant has used the term Subspecialist. In Obstetrics and Gynecology, it is agreed that the term SpOG(K) is used.
Sub-specialist medical education is the highest professional medical education, in the Indonesian National Qualifications Framework it is at level nine. Sub-specialist doctors through research activities must be able to contribute in the form of developing new, creative, original, and tested knowledge or professional skills. Through development that is useful for science and the welfare of mankind, it is able to gain recognition both nationally and internationally. Have the ability to solve scientific or professional problems through a multi and interdisciplinary approach.
In KSM/Department of Obstetrics and Gynecology, Faculty of Medicine, Padjadjaran University, there are 5 subspecialty doctor education programs, namely;
1. Fetomaternal Medicine
Fetomaternal Medicine subspecialty education is a subspecialty in obstetrics and gynecology which aims to produce graduates with advanced knowledge specifically in obstetrics, medical and operative complications due to pregnancy and their effects on mother and fetus, and have competence in carrying out the latest approaches in the diagnosis and management of pregnancy with complications in circumstances with adequate facilities. Each graduate is expected to have advanced knowledge about the adaptation of newborns which is also important in the continuation of excellent health services from the fetus to the neonate period.
2. Fertility-Reproductive Endocrinology
A sub-specialist in Reproductive Endocrinology and Infertility is a specialist in Obstetrics and Gynecology who has passed the Collegium sub-specialist examination and has competence in the management of reproductive endocrine disorders and infertility. Graduates of this sub-specialist are required to practice as a sub-specialist for 66% of the time, besides that it is hoped that this sub-specialist can also become a leader and director in an assisted reproductive unit.
3. Gynecological Oncology
Gynecological Oncology is a sub-specialty field of Obstetrics and Gynecology which is carried out to find out more about gynecological cancer. Graduates of the Gynecology Oncology subspecialty have competence in comprehensive management of women with genital malignancies in terms of women's health, medicine, surgery, and oncology. This situation requires special circumstances between doctors and patients and their families. Gynecological oncology sub-specialist doctors spend more time in the operating room, which is in dire need of operative skills in the management of gynecologic cancer, besides that they are also expected to be able to provide adjuvant therapy for cancer, including chemotherapy and radiotherapy. The collaboration that is built also covers other fields such as the palliative care team and medical oncologists.
4. Reconstructive Urogynecology
The female pelvic floor reconstruction urogynecology subspecialist graduate is a specialist in Obstetrics and Gynecology who has carried out Urogynecology subspecialty education and has passed the national sub-specialist examination of the College of Obstetrics and Gynecology.
5. Obstetrics Gynecology Social
Obstetrics and gynecology social sub-specialist education has a mission to disseminate insights/policy on reproductive health services, therefore the focus of education lies in providing ethical competence in an effort to improve individual services through a biopsychosocial approach, as well as managerial competence as a provision for solving community problems through the philosophy of "Hospital without a wall. ". This sub-specialist education aims to produce professionals who have the knowledge, attitudes, and academic and managerial abilities in order to support the function of reproductive health services.
Education organized to produce
Obstetrics and Gynecology Sub-specialist doctors
who have the competence to carry out health services and constitute further medical education as university education.
Cooperation Agreement between Padjadjaran University, Dr. RSUP. Hasan Sadikin Bandung with the Educational Network Hospital, including Dr. Slamet Garut, RSUD R. Dr. Syamsudin Sukabumi, Cibabat Hospital, and a Cooperation Agreement with the Faculty of Medicine, University of Indonesia.
About
Us
Obstetrics and Gynecology Subspecialist Study Programs.
Study Program Vision
The vision of the Obstetrics and Gynecology Sub-specialist Medical Education Study Program at the Faculty of Medicine, Padjadjaran University is, "Developing obstetrics and gynecology sub-specialist science with the advantage of graduates who have international standard professional abilities and have an impact on society, which is based on the main scientific pattern of Bina Mulia Law and the Environment"
Study Program Mission
The mission of the Obstetrics and Gynecology Sub-specialist Medical Education Study Program is inseparable from the mission of the UNPAD Faculty of Medicine as a higher education institution, and in supporting the Unpad Ngahiji Unpad Kahiji program, the mission of the Obstetrics and Gynecology Sub-specialist Medical Education Study Program is to achieve excellence in organizing an educational system that is effective, efficient, accountable and sustainable in order to produce graduates who are in accordance with the subspecialist medical education standards set by the Indonesian College of Obstetrics and Gynecology and the World Federation for Medical Education ( World Federation for Medical Education ) organization , with the Royal College of Obstetrics and Gynecology as benchmarks.
Goals
Producing Obstetrics and Gynecology Sub-specialist doctors according to the field of specialization who have the level of expertise according to national standards and become role models, with particularities:
Have a sense of responsibility in carrying out the subspecialty medical profession of Obstetrics and Gynecology in a service system in accordance with the National Health System and guided by the Indonesian Medical Code of Ethics (KODEKI).
Mastering knowledge and skills in the field of Obstetrics and Gynecology Subspecialties in order to be able to provide optimal services.
Have the ability to identify, handle, and solve problems in Obstetrics and Gynecology.
Have the ability to empower and collaborate with institutions and organizations to solve subspecialty problems of Obstetrics and Gynecology.
Has the ability in the fields of research, education, and organization of services for Obstetrics and Gynecology Sub-specialties.
Have the ability to provide Obstetrics and Gynecology Sub-specialist education.
Producing superior, competitive, and adaptive human resources (graduates), in the field of Obstetrics and Gynecology sub-specialization, with global insight, and relevant to community development needs and possessing an entrepreneurial spirit.
Implementation of the Obstetrics & Gynecology Study Program Subspecialist Program (Sp2) at the Faculty of Medicine, University of Padjadjaran University-Based based on the Decree of the Chancellor of the University of Padjadjaran Number: 363/UN6.RKT/Kep/HK/2019
Organizational Structure of Obstetrics & Gynecology Subspecialty Doctor Study Program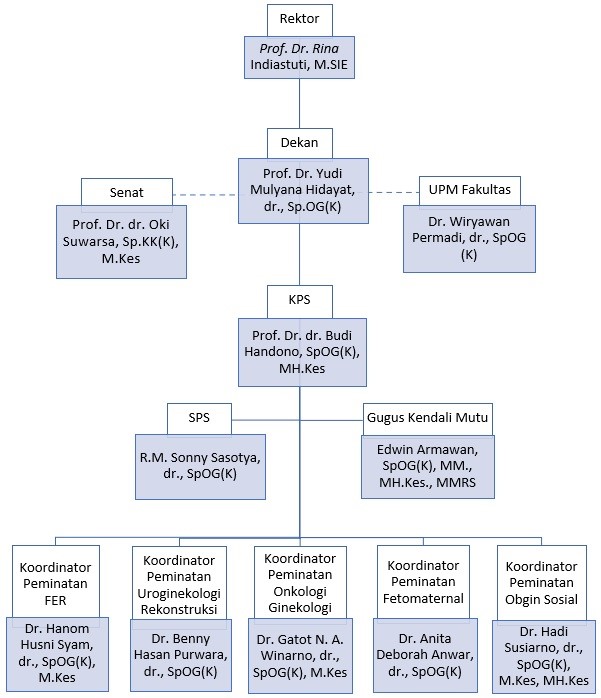 Subspecialist PPP Team
chairman : Prof. Dr. Budi Handono, dr., SpOG(K)-KFM, MH.Kes
Secretary : RM Sonny Sasotya, dr., SpOG(K)-Urogin
Member :
Dr. Tita Husnitawati Madjid, dr., SpOG(K)-FER
Dr. Benny Hasan, dr., SpOG(K)-Urogin
Dr. Gatot Nyarumenteng A. Winarno, dr., SpOG(K)-Onk, M.Kes
Dr. Anita Deborah Anwar, dr., SpOG(K)-KFM
Dr. Anita Rachmawati, SpOG(K)-FER
Windi Nurdiawan, dr., SpOG(K)-Obginsos, M.Kes
Edwin Armawan, dr., SpOG(K), MM.,MH.Kes
 Education Personnel:
Dra. Hannasari Wiraatmadja, MM
Dodi Setiadi, SE
Accreditation
Based on the decision of LAM-PTKes stated:
Obstetrics and Gynecology Subspecialty Study Program, Padjadjaran University, Bandung.
The curriculum of this educational program is determined by the Indonesian College of Obstetrics and Gynaecology , after being compiled by the teaching staff of this study program and approved by the respective interest organizations in the field of specialization. The curriculum structure is based on the provisions of the Ministry of National Education, implemented according to the rules and formats set by the Faculty of Medicine, University of Padjadjaran. The number of credits is adjusted to the Regulation of the Minister of Education and Culture of the Republic of Indonesia No. 49 of 2014 concerning National Standards for Higher Education, which is 72 credits.
The implementation of education is monitored and reviewed by the Indonesian Collegium of Obstetrics and Gynaecology, as well as visits to the feasibility of educational places and teaching hospitals. The reference for the preparation of this curriculum uses the educational curriculum of the Royal College of Obstetrics and Gynecology.
Obstetrics and Gynaecology subspecialty doctor education requires a minimum of 3 full years and evaluation is carried out in a formative and summative manner. Students are considered to have passed if they have met the graduation requirements in the form of scientific writing, written and oral exams related to subspecialty specialization in accordance with the curriculum.
Broadly speaking, competencies in Sub-specialists are divided into 3, namely the main competencies, supporting competencies, and other competencies which are described as follows.
The main competencies that are characterized by the Core Curriculum (80%), are determined by the universities together with the professional community and graduate users (SK Mendiknas No. 045/U/2002), through the Indonesian College of Obstetrics and Gynecology, namely:
High Professionalism (Ethics, morals, professionalism and medicolegal)
Introspection and Self-Development
Effective Communication
Information Management
Scientific Foundation of Medicine
Clinical Skills
Health Problem Management
Research field (as scientist or researcher)
Supporting competencies and other competencies that are specific and related to the main competencies make up 20% of the curriculum which is also an institutional curriculum.
Supporting competencies are competencies that are given as excellence, such as minimally invasive surgery , prenatal screening for fetal congenital abnormalities, and IVF programs.
Supporting competencies also include other competencies determined by universities as characteristics of graduates and to provide graduates with the ability to choose fields of life and improve their quality of life. These competencies are presented in the form of elective courses such as managerial.
Other competencies are types of graduate competencies that come from other study programs, but are taken to enrich the graduates.
The content of the Obstetrics and Gynecology Sub-specialist Doctor Education curriculum consists of:
Learning Materials ( content )
Curriculum Structure ( structure )
Learning Process ( delivery )
Assessment of Educational Progress ( assessment )
Resources ( resources )
Quality Assurance (quality assurance)
The learning facilities used by the Obstetrics and Gynecology Subspecialty Study Program, Faculty of Medicine, University of Padjadjaran are listed in Table I.2.1-1.
No
Name of Laboratory or other facilities
Main equipment type or others
Number of units
Ownership
Average usage time (Hours/week)
SD
SW
1
Fertility Polyclinic and Reproductive Endocrinology
Color Doppler Ultrasound
1
SD
20
2D ultrasound
2
SD
20
IVF vacuum aspirator
1
SD
10

With operative laparoscopic facility with insemination

(IVF Workstation L126 Dual with 6 sensors in the heated surface)

1
SD
12
2
Operating room
Operative Laparoscopy and Operative Hysteroscopy
1
SD
12
Endolaparoscopy
1
SD
16
Hysteroscopy Set
1
SD
16
Flexible hysteroscopy set
1
SD
16
Trochar 10 Mm, Trochar 5 Mm
1
SD
16
Pyranidal Tip Obturator 10mm , Conicl Tip Obturator 10mm
1
SD
16
Conicl Ti Oburator 5Mm, Reducing Sleeve, Insuffilations tube with co2 filter pg012
1
SD
16
Bipolar mmaryland dissector, Tubal fixation forceps, Atraumatic fixation forceps
1
SD
16
Claw grasper (stroz), Graspinng forceps teeth (aseculap)
1
SD
16

Hook Scissor, Mtzembaum Scissor serrated,

Monopolar electrode tip L hook, Durogrip tc neddle holder straight, Neddle holder, Injection Needle

1
SD
16
Myoma boor, Sonde Uterus, Reusable suction irrigation instrument pg 027R
1
SD
16
Nedle puncture monopolar, Insuflations tube with co2 filter012, Tubibg set reusable pg6052, Insuflation tube safe lock
1
SD
16
Cystoscopy
1
SD
2
Fiber optic light guide cable op913/full HD cable, Bipolar cable, place scope
1
SD
16
3
Reconstructive Urogynecology Polyclinic
levator ani avulsion mannequin
4
SD

 

1
Perineal Rupture Mannequin
1
SD
12
TVT, TVT-O, TOT
3 unit/bulan
SD
1
4.
Fetomaternal Polyclinic
USG 4D
1
SD
25
2D ultrasound
1
SD
10
CTG Gemelli
1
SD
12
Mannequins for amniocentesis and cordocentesis
1
SD
18
5.
Poliklinik Obginsos
LCD Projector
1
SD
25
flat tv
1
SD
12
IUD Insertion Mannequin
1
SD
18
6.
Gynecological Oncology Polyclinic
Color Doppler Ultrasound
1
SD
20
2D ultrasound
2
SD
20
Office Hysterescopy
1
SD
12
Kolposkopi
1
SD
12
7.
Satellite and Affiliate Hospital Operating Room
Laparoscopy (Dr. Syamsudin Sukabumi Hospital, Cibabat Hospital, Dr. Slamet Garut Hospital)
3
 
SW
75
8.
Obstetrics and Gynecology Polyclinic Satellite Hospital and Affiliated
Ultrasonography (Syamsudin Sukabumi Hospital, Cibabat Hospital, Dr Slamet Garut Hospital)
6
 
SW
90
Postgraduate Research Laboratory
Want to Join with Us
Contact Us
KSM/DEPARTEMEN  OBSTETRI DAN GINEKOLOGI
RSUP DR. HASAN SADIKIN/ FK UNPAD
Jl. Pasteur No. 38 Bandung
Service information
Admission of New Students
Why
Choose

Us

The teaching staff are doctoral graduates from foreign and domestic universities who have experience in research and publication in international journals; full of commitment and support from the supervisor's grant grants make it easier for students to carry out thesis research and graduate on time.
List of Lecturer Expertise
Lecturer
REPRODUCTIVE ENDOCRINOLOGY FERTILITY
dr. Ruswana Anwar, SpOG(K), M.Kes

dr. Wiryawan Permadi, SpOG(K)

Dr. dr. Tono Djuwantono, SpOG(K), M.Kes

dr. Tita Husnitawati Madjid, SpOG(K)

dr. Anita Rachmawati, SpOG(K)

dr. Hartanto Bayuaji, SpOG(K)

dr. Hanom Husni Syam, SpOG(K), M.Kes

Mulyanusa A. Ritonga, SpOG(K), M.Kes

dr. Dian Tjahyadi, SpOG(K), MMRS
Lecturer
FETOMATERNAL
Dr. dr. Firman F. Wirakusumah, SpOG(K)

Dr. dr. Sofie R. Krisnadi, SpOG(K)

Dr. dr. Johanes C. Mose, SpOG(K)

Dr. dr. Jusuf Sulaeman Effendi, SpOG(K)

dr. Anita Deborah Anwar, SpOG(K)

Dr. dr. Budi Handono, SpOG(K), MH.Kes

dr. Setyorini Irianti, SpOG(K)

dr. Adhi Pribadi, SpOG(K)

dr. Muhammad Alamsyah, SpOG(K), KIC, M.Kes

dr. Akhmad Yogi Pramatirta, SpOG(K), M.Kes

dr. Amillia Siddiq, SpOG(K), M.Si
Lecturer
ONCOLOGY-GYNECOLOGY
dr. Yudi Mulyana Hidayat, SpOG(K)

Ali Budi Harsono, SpOG(K)

Dodi Suardi, SpOG(K)

dr. Gatot N. A. Winarno, SpOG(K), M.Kes

Siti Salima, SpOG(K)

Andi Kurniadi, SpOG(K), M.Kes
Lecturer
UROGYNECOLOGY AND RECONSTRUCTION
dr. Benny Hasan Purwara, SpOG(K)

R. M. Sonny Sasotya, SpOG(K)

M. Rizkar Arev Sukarsa, SpOG(K)

Edwin Armawan, SpOG(K), MM, MH.Kes, MMRS

Eppy Darmadi Achmad, SpOG(K), M.Kes

Andi Rinaldi, SpOG(K)
Lecturer
SOCIAL OBSTETRICS AND GYNECOLOGY
dr. Hadi Susiarno, SpOG(K), M.Kes, MH.Kes

Dini Pusianawati, SpOG(K)

dr. Zulvayanti, SpOG(K), M.Kes

Dini Hidayat, SpOG(K), M.Kes

dr. Windi Nurdiawan, SpOG(K), M.Kes